Boat Ramp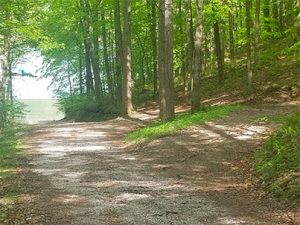 The boat ramp (launch) is provided for the exclusive use of Cove Norris Homeowners' Association, Inc., members (with paid dues for the current year), and resident guests.  The access gate is to be kept locked at all times.  If you need a key, please contact the Boat Ramp Security person identified on the Officers & Directors page of this website.  (A key security deposit is required.)
Use of the boat ramp is at your own risk. Parking of towing vehicles and trailers is limited to day use only. Long-term parking is NOT permitted. We request that you park your towing vehicle and trailer so that you do not block the ramp, the lower turn-around loop or the upper turn-around loop. Larger boats need all the maneuvering space they can get! Swimming at the ramp is prohibited. Thanks for your consideration.
Trailer Storage
At the Homeowners' Association Annual Meeting in 2006, it was determined that the tennis court area, which is provided for the exclusive use of Cove Norris Homeowners' Association, Inc., members, would be used as a trailer parking area until such time as improvements are completed for the tennis court. Therefore the lot will be used as a place to park the trailer for an extended period of time.
This tennis court area is a private lot that is owned by the Homeowners' Association and the use of it is limited to Members (with paid dues for the current year). Use of the lot is first-come, first-serve. Please do not block in other trailers or your trailer will be towed. Each trailer parked on the lot must bear the identification of the owner of the trailer (your name, address, and telephone number).
At the Homeowners' Association Annual Meeting in 2018, it was determined that trailer storage would cost $50 per the calendar year and that trailers not properly identified (as required above) or for which no annual fee has been paid would be considered abandoned property. Those trailers considered abandoned will be disposed of in accordance with Tennessee law.
Natural Gas Service
The Powell Clinch Utility District (the "PCUD") has completed the installation of natural gas service within Cove Norris. PCUD is headquartered in Rocky Top with administrative offices and sales/showroom located at 203 East 1st Street.
In addition to natural gas, PCUD sells, installs and services gas appliances, hearth products, heaters, and grills with zero-percent financing options available. To learn more about PCUD or apply for service visit www.pcud.org. The basis installation cost is $375 for a connection with up to 200 ft of gas line plus a $50 activation fee. Currently the $375 connection fee is waived if you make the switch to natural gas for either your water heater or primary heat source; see these valuable incentives at www.pcud.org/natural-gas/incentives/.
If you have additional questions, please call their office at 865-426-2822
High Speed Internet
Comcast completed the infrastructure within Cove Norris last year. As posted on FaceBook; Xfinity Comcast has assigned Will as the "new construction" sales rep for Cove Norris. Those interested in new service can contact him by phone or text.
Contact Info:
William "Will" L. O'Connor
Xfinity Residential Sales Executive
865.304.4349
william_oconnor@cable.comcast.com
811 Call Before You Dig
Before starting any digging project, please call 811 (the underground utility notification center). This service will notify the appropriate Utility Companies to mark their underground lines before you dig. It's the safe thing to do and it's also the law. To learn more, visit: http://www.tenn811.com/